5 Ways to Get Your Car Ready for Fall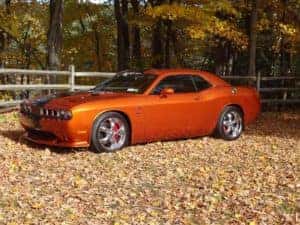 Now is the time to act on getting your vehicle ready for the change in weather. Fall car care is simple and easy if you take care of it now before it becomes a problem. The experts at Orchard Chrysler Dodge Jeep Ram have put together the top list of components to get checked out before winter hits.
Fall is in the air, and the weather is starting to cool down. Just as humans and animals alike are gearing up for the change in seasons, your car will also have to make some adjustments. Fall car care isn't strenuous or expensive, and it can ensure you start off fall with a safe and reliable vehicle. The goal is to take care of any potential issues now, so that you are not faced with a difficult or dangerous situation in the cold and inclement weather. The service and repair experts at Orchard Chrysler Dodge Jeep Ram have put together a quick list of components and systems that you will want to pay attention to as the cold weather approaches.
Systems to Inspect for Fall
Tires- Your tires are your first line of defense against frozen and wet roads. To provide suitable handling, stopping power, and acceleration, the tires need to have proper tread. This means that the tread should be well over 2/32nds of an inch thick, and that it should be wearing evenly. Your tires also need to be properly inflated based on your vehicle's recommended tire pressure. Otherwise, your tread is not being utilized to its best abilities and will not work as designed.
Cooling System- Ensure that your radiator, cooling fans, and heater core are all working well. The cooling system does double duty during the winter, meaning that it keeps the engine from freezing during cold nights, and keeps it from overheating while you are driving. You want to ensure that the system is full of good quality coolant/antifreeze.
Windshield Wipers- Check windshield wipers now before you get caught in a storm. Make sure that they run on all speeds, and that the wiper blades are able to completely clear your view. If the wipers leave streaks or miss entire sections of glass, then you should opt for a new set. They run anywhere from $15-$50, and take a matter of minutes to install.
Battery- The battery and other electrical systems will struggle in cold weather, as it is harder to move electrons in freezing conditions. Having a battery with appropriate cold cranking amps can improve starting and driving performance this time of year. A weak battery will not be able to supply the power needed in cold weather, or may completely fail under the right conditions.
Heater/Defrost- Heat and defrost in the winter are convenient in most situations. However, there are times when they are necessary for survival, and you do not want to be caught without them. Test the heater and defrost now, so that you don't find out there is an issue when you need warmth and visibility most.
Trust the Experts You Can Rely On
If you suspect any problems with the systems mentioned above, there is cause for concern and you want to handle it now before it becomes a more serious issue. Anyone looking for quality car care can look to their local service center in Washington, MI. The professionals at Orchard Chrysler Dodge Jeep Ram will help keep your vehicle going strong this winter. Call today for an estimate or to schedule an appointment. You can also explore our inventory, service center, and parts department online for more information.