2019 RAM 1500 towing Capacity
There are lots of reasons why so many of us chose pickup trucks these days over large sedans, crossovers and SUVs. For the most part, a full-size pickup truck offers a similar seating capacity and a much more versatile load space. However, the main reason most people choose a pickup truck is because nothing else can really tow like a pickup truck. Whether it's for a trailer, a speedboat or anything else that can be towed behind a vehicle, the pickup truck really is king. One of the most popular, stylish and capable of all full-size light-duty pickups is the 2019 Ram 1500, generally pretty-rare for a full-size pickup, which is a complete redesign. Let's take a look at what the latest 2019 Ram 1500 towing capacity is and how much it can haul, as well as what else makes this one of the very best full-size light-duty pickups in the current market.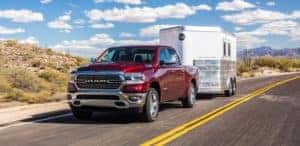 Capability
Even people who buy and run a truck just because it's cool and never really tow or haul anything of consequence still like to have the capability there for if it's ever needed. A large crossover of SUV can tow a decent boat or relatively small trailer thanks to towing capacities generally in the region of 3,500 to 5,000 pounds. Some of the biggest and most capable models can even go as high as 8,500-9,000 pounds, but none can match the maximum 12,750 pound tow rating of a 2019 Ram 1500 equipped with the 5.7-liter Hemi V-8 with eTorque. Even the base 3.6-liter V-6 with eTorque has a maximum towing capacity of 7,730 pounds, and the non-eTorque 5.7-liter boasts a rating of 11,610 pounds. When it comes to payload, the maximum you can haul with a new Ram 1500 is a pretty impressive 2,300 pounds.
What else?
If the task at hand requires better maximum ratings than those, buyers probably need to be looking at a heavy duty model like the Ram 2500 and 3500 instead of another light-duty rival. Of course, although towing and hauling capability is vitally important for the vast majority of buyers there's plenty more the Ram 1500 has to offer that needs taking into consideration.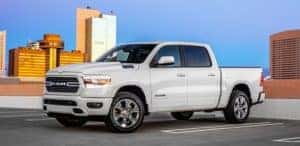 For a start, just look at it. The Ram 1500 has always been one of the most recognizable trucks in the market, and although the 2019 model has been notably redesigned it's still instantly identifiable as a Ram 1500. The exterior styling has definitely been toned down a little this time around, and it's easy to see the front end has spent a considerable amount of development time in the wind tunnel to improve aerodynamics. It's perhaps not quite as rugged and macho as it was, but it's certainly not gone soft and the considerably more modern look is likely to appeal to a wider audience than ever before.
For 2019 the Ram 1500 is available in Tradesman, Bighorn, Laramie, Rebel, Laramie Longhorn, and top of the range Limited trim levels, so there are plenty of models to suit a wide range of tastes, requirements and budgets. The standard engine produces 305 horsepower while the V-8 steps that up to 395 horsepower, and this is the first of our domestic full-size pickup trucks to embrace mild hybrid drivetrain technology in the form of eTorque.
For more information and to schedule a test drive in the all-new 2019 Ram 1500 or any Ram trucks, sedan, SUV's for that matter, don't hesitate to get in touch with us today here at Orchard Chrysler Dodge Jeep Ram.