2019 Jeep Wrangler SUV models and specs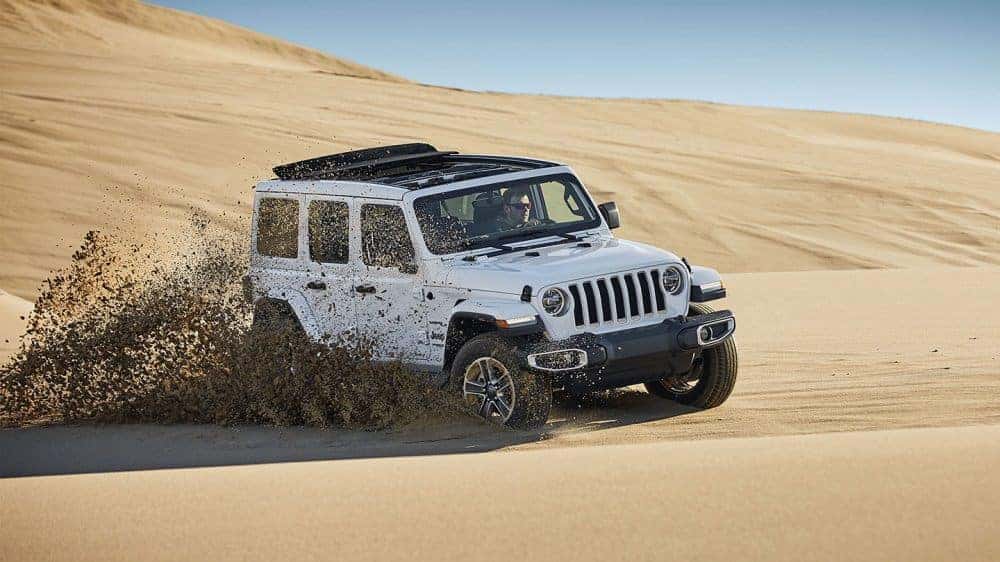 Unless you've been living in a cave for the last three decades, even if you're not an auto industry or SUV enthusiast, you're probably very familiar with the Jeep Wrangler and you'll probably be able to identify one at a glance. But if you're not familiar with the various models and specifications of this most iconic of Jeep SUVs, here's a quick guide to the 2019 Jeep Wrangler.
Body styles
When you decide you're interested in a new Jeep Wrangler, the first thing you'll need to decide is which of the two body styles you want to go with. The standard Jeep Wrangler is a two-door, four-seat model, while the Wrangler Unlimited is a four-door, five-seat model with a longer wheelbase. The wheelbase of the two-door Wrangler is 96.8 inches, while the Wrangler Unlimited has a much more generous 118.4-inch wheelbase. Although the headroom and front legroom are identical in both variants, the Unlimited offers buyers more second-row legroom, a good deal more cargo capacity, and easier access to those second-row seats thanks to the extra set of doors.
Powertrains
The majority of Wrangler you'll come across will feature a familiar 3.6-liter V-6 engine under the hood that develops 285 horsepower and 260 lb.-ft. of torque. The power is sent to all four wheels through an eight-speed automatic transmission most of the time, although a six-speed manual is the standard transmission.
If you want something a little different, and very contemporary, the optional powerplant for the Wrangler is a 2.0-liter turbo-four that features a mild hybrid system that adds torque and reduces fuel consumption into the bargain. The 270 horsepower it produces is obviously very similar to what the V-6 has to offer, but 295 lb.-ft. of torque it has on tap is the real difference and it makes the Wrangler even better off-road than it already was with the V-6.
Trim levels
Two-door Wrangler models come in just three trim levels for now. The entry model is the Wrangler Sport, and then we have the Sport S and the Rubicon. There's quite a bit more choice with the Unlimited. The first two models in the Unlimited lineup are still the Sport and the Sport S, but before the range top off with the Rubicon, Unlimited buyers also have the Moab and Sahara models to select from. There are three different all-wheel drive systems available, but there's no such thing as a two-wheel-drive Wrangler.
Features and equipment
Entry-level Sport models have an element of old-school charm about them as a no-nonsense off-road vehicle with manual windows and no air conditioning, but they also come with modern features like keyless ignition and a rearview camera. Sport S models and higher are what you're more likely to come across on lots, and the Sport S looks like good value with standard power features, air conditioning, remote keyless entry and ignition, an infotainment system with a 5.0-inch display. The Sport S can also be upgraded with a number of available packages to help you build the right Wrangler for you.
For more information about the 2019 Jeep Wrangler models in the current lineup and to try one out for yourself on a test drive, get in touch with us today here at Orchard Chrysler Dodge Jeep Ram, your number one choice Jeep dealer in Washington, MI, and the surrounding area.